"Concepto Incerto", E. M. de Melo e Castro, 1974
" We were faced with a need to go beyond ourselves….To establish relations which were not only interdisciplinary but also transnational ... We discovered something... Writing in a different way corresponded to a political attitude. Incorporating the visual dimension was a political attitude…".
Born in Covilhã in 1932, Ernesto Manuel Geraldes de Melo e Castro, is an engineer, writer, experimental poet, critic, essayist, and visual artist. On his initiative, special pages were published in the Jornal do Fundão and Notícias de Luanda dedicated to experimental poetry - an area in which he played a key role in the 1960s in Portugal. He is the author of a "manifesto" of experimental poetry - Proposition 2:01 - Experimental Poetry - and also of various works in the field of Design and Textile Engineering.
Concepto Incerto (Uncertain Concept) is presented in the form of an envelope containing 32 sheets, each with geometric patterns and a comment by the author. Melo e Castro is committed to conceptual non-equivalence between visual and written codes, each of which can be understood as a point of departure to the other. Together they generate aesthetic information.

The work chronicles the exhibition in the Galeria Buchholz in Lisbon, in December 1974.
Dimensions of the envelope : 22,5x15,5 cm
Entrelinhas – Eugénio de Mello e Castro (11 May 2010).
Image: "Concepto Incerto", E. M. de Melo e Castro, 1974. Artists' Books and Editions. Coll. Fundação de Serralves – Museu de Arte Contemporânea, Porto. Photo © Fundação de Serralves, Porto.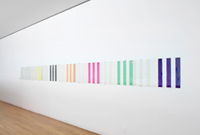 Born in March 1938, of French nationality, Buren graduated from the École Nationale Supérieure des Métiers d'Art in Paris in 1960. From 1965 onwards, however, he became well-known for his regular use of contrasting stripes on surfaces and architectural spaces.
Both in his interventions aimed at a specific space, and in his books, Daniel Buren creates on-site works. He uses coloured strips, alternating between white and one colour, 8.7 cm wide, a unit that he calls his "tool". His books, completely independent works, may contain texts or "photo-memories". In the catalogues for group exhibitions, he tends to opt for an intervention designed specifically for the exhibition in question.
"Passages" is presented in seven volumes, in a white cardboard box measuring 55,5 cm x 55 cm x 6, 5 cm.

7 volumes, soft bound, in a white card stock slipcase.
Each volume has a different colour and is constituted by printed compensating cards with single colour bands.
Vol. I: Blue: 32 plates; Vol. I: Azul: 32 placas; vol. II: Yellow: 39 plates; Vol. II: Amarelo: 39 placas; vol. III: Black: 25 plates; Vol. III: Preto: 25 placas; vol. IV: Orange: 29 plates; Vol. IV: Laranja: 29 placas; vol. V: Red: 26 plates; Vol. V: Vermelho: 26 placas; vol. VI: Green: 31 plates; Vol. VI: Verde: 31 placas; vol. VII: Violet: 33 plates. VII: Violeta: 33 placas. Artestudio, Macerata, Italy, 1972
« L'ennemi du créateur n'est donc pas seulement le Musée, la Galerie, ni même le critique, ce parasite, ce qu'en un mot d'aucuns appellent le "système", mais bien la horde des suiveurs de modes, des eunuques de la pensée, des réactionnaires patentés : les artistes, qui à leur niveau représentent dans le pouvoir la force qui le perpétue»
«The artist's enemy therefore isn't only the Museum, Gallery, nor even the art critic, this parasite, that in a word can be called the "system", but rather the horde of those who follow fads, intellectual eunuchs, the patent reactionaries: the artists, who at their level represent, in terms of power, the force which perpetuates it». (Brussels, April 1977).
Daniel Buren - Les Ecrits (1965-1990). Retrieved on September 18, 2012 from
http://www.secret-wound.org/spip/spip.php?article6
Image: "Passages", Daniel Buren, 1972. Artists' Books and Editions. Coll. Fundação de Serralves – Museu de Arte Contemporânea, Porto. Photo Filipe Braga, © Fundação de Serralves, Porto.

The work "Twentysix Gasoline Stations", by Ed
Ruscha, consists of black and white photographs of 26 petrol stations, with one-line captions indicating the name and location of each station. The book's format is conventional, using a standard type of paper, however the page layout
varies. Sometimes one photograph fills two pages, sometimes a single page, sometimes only half a page. Ruscha took these photographs of petrol stations along the legendary highway, Route 66, which links Oklahoma to Los Angeles. According to
Ruscha the images weren't recorded with the intention of showing artistic photographs but, rather from the standpoint of traditional aesthetics, served almost like snapshops, referring to the concept of "non-photography".
Reference: Edward Ruscha: Twentysix Gasoline Stations. - 2nd ed. (© 1967). - Alhambra: Cunningham Press, 1962. - 48 p. : Il., R & b, 18 cm. Artists' Books and Editions. Coll. Fundação de Serralves – Museu de Arte Contemporânea, Porto. Photo © Fundação de Serralves, Porto.